Onishi Gallery
521 W 26th St, New York
212-695-8035
Tuesday - Saturday: 11 am - 6 pm



Japanese Ceramics and Metalwork in Contemporary Design
Mar 15-May 26
Japanese Ceramics and Metalwork in Contemporary Design March 15 - April 14, 2018 Opening: Thursday, March 15, 6-8pm In celebration of Asia Week New York 2018 and its 12-year anniversary as a leader of Japanese arts in the international art market of New York City, Onishi Gallery is proud to present this unique new exhibition to Western audiences, Japanese Ceramics and Metalwork in Contemporary Design. The traditional arts of Japan may be described in many ways, but distinguished beauty, meticulous creative techniques, refined aesthetics, and legacies of heritage are some of the defining characteristics that unite them all. From one generation of artists to the next, Japanese creative tradition is passed down and reinterpreted in a new design and form. For thousands of years, shared customs have reinforced creative structures within which artists seek to express their particular visions an thus, tradition is reborn. In this process, histories, aesthetics, theories, and passions about beauty are re-conceived and, as this landmark exhibition demonstrates, these notions are shared with community to continually re-define the maker, the muse, and the meaning of the artwork in new cultural contexts and social conditions. Impressively, this years exhibition features 28 artists who fall into two categories based on their creative media, ceramics or metalwork. Within this talented group, 10 of the artists have been designated Living National Treasures by the government of Japan for their contributions to the preservation and transmission of traditional Japanese artistic heritage. These 28 artists introduce rare reinterpretations of Japanese traditional arts to the international art world, uniquely presented here in the context of Western interior design to bridge history with contemporary circumstance, function with fine aesthetics, creativity with custom, and Eastern with Western tradition.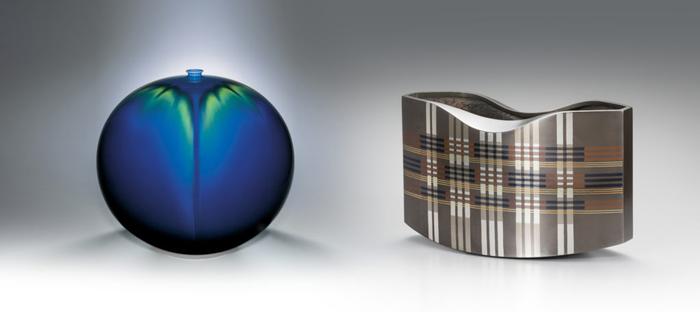 Passions in Clay
Apr 18-May 26
Onishi Gallery is proud to present Passions in Clay, a stunning exhibition featuring three renowned Japanese ceramic artists: Konno Tomoko, Ohi Toshio Chozaemon XI, and Ito Sekisui V. Depicting an astonishing range of form and function, the exhibited pieces embody abstract and earthly identities through the use of vivid color, polished form, and raw passion. Meticulous hand-built sculptures and refined, round vessels demonstrate the reaches of human achievement in the ceramic arts.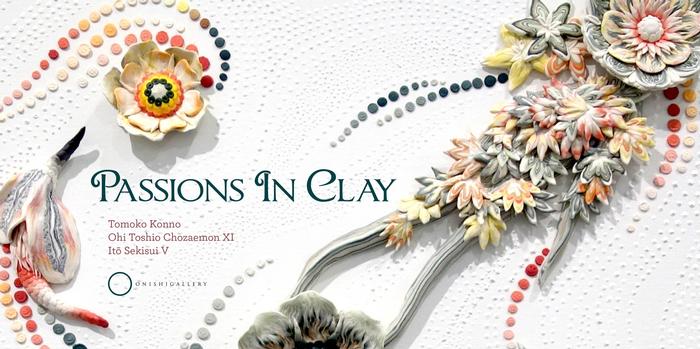 Summer Group Show I with Onishi Project
May 31-Jun 13
SUMMER GROUP SHOW I Date: May 31 – June 13, 2018 Opening: Thursday, May 31, 6-8PM Location: Onishi Gallery, 521 W 26th Street, New York, NY 10001 Gallery Hours: Tuesday–Saturday, 11am-6pm Onishi Project is pleased to announce our first of a series of summer group shows for this year from May 31st to June 13th with the opening reception on May 31st from 6 to 8pm. This group features five international artists: Attila Mata, Rie Ono, Krisztina Horvath, Tomokazu Iida and Vladimir Lalic. Attila Mata, born in Eger, Hungary, studied at the Hungarian Academy of Fine Arts under his master, sculptor and medalist, Tamas Vigh. Attila enjoys experimenting with a wide variety of different materials and themes and loves the extreme. Reflected in his artwork, the human body is reduced to geometric forms. He has works in various public and private collections throughout Europe. Rie Ono, born in Miyagi prefecture, Japan, and currently lives in Kofu City, Yamanashi Prefecture, Japan. Ono studied at Tama Art University Graduate School. In her works, she depicts not only the physical landscape but also the internal landscape that is connected to emotion, the mind, breath, blood flow, internal organs, muscles and all six senses. Her most recent works have focused on the unstable energy that is constantly flowing from nature, herself, and also on the initial emotion itself. Krisztina Horvath was born in Budapest in 1966. Movement, energy and gestures play an important role in her abstract expressionistic art. Gestural abstraction and action painting define her work best. Her concern about the future of our planet stimulates her to make expressive pieces of art that reflect her inner thoughts and feelings on this issue. Oriental art and art inspired by Zen offer great inspiration and she likes to make Zen Studies. When painting them, she keeps in mind the seven characteristics of Zen Aesthetics written down in the book 'Zen and the Fine Arts' by Shinichi Hisamatsu. Tomokazu Iida, born in Saitama, Tokyo in 1976, where he lives and works. Iida seeks to share the expression that the subjects of his works convey, and in doing so, after making them into a design, having the viewer experience a certain amorous feel from looking at them. He learned digital design at Tokyo Designer Gakuin College. He became a freelancer after creating works for companies in the anime and gaming industry. Iida has been creating hundreds of works such as company's advertisements, web media illustrations, image characters, graphic design work, and banners used in web advertisement. Vladimir Lalic is born in 1983, in Belgrade, Serbia. He finished Faculty of applied arts in Belgrade in 2008. He made 25 solo exhibitions and participated in over 50 international group exhibitions. He was given 6 awards for visual art one of which is "Prix Paul Louis Weller'' – given by the Academie des Beaux arts in Paris, France. His works are in many private collections around the world. Currently he is working between Belgrade and Paris. For more information on the exhibition, please contact Dannie Pierce at 212-695-8035, or by email at dpierce@onishigallery.com. Or, please visit our website at http://onishiproject.com/updates/summer-group-shows-2018-2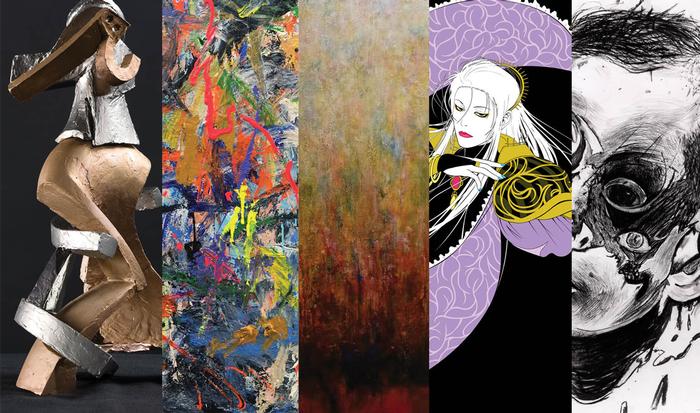 Junichi Nakashima: Solo Exhibition with Onishi Project
May 31-Jun 13
Junichi Nakashima: Solo Exhibition Exhibition dates: May 31 – June 13, 2018 Opening reception: Thursday, May 31, 6-8PM Onishi Gallery, 521 W 26th Street, New York, NY 10001 Onishi Project is proud to present a solo exhibition featuring the kaleidoscopic, poetic paintings of Junichi Nakashima. This series of works shares with viewers the secrets of colors that dye the unfixed forms of clouds as they dance in the sky at daybreak. Born in Karatsu City, located in Saga Prefecture, Japan in 1952, he later attended Baylor University in Waco, Texas as an exchange student where he studied painting and printmaking. Upon graduating and returning to Japan, Nakashima participated in many international exhibitions in France, Italy, and more. He has been awarded prizes in several international art exhibitions, such as The Critic Prize in France-Japan Modern Art Exhibition, Paris The Excellence Prize in The Contemporary Japanese Art Exhibition, Barcelona The prize of Association des Amis Musee Picasso at the International Art Exchange Exhibition, Kobe and more. When he was young, Nakashima often indulged in flights of fancy. He appreciated the contemporary artworks that appeared in the several art books at the library of Baylor University, where he attended, however, he found that the styles adapted by the abstract artists of the 20th century, with it's use of rectangles arranged horizontally and vertically, didn't appeal to him. The art of Kandinsky however, gave him feelings of gratitude with its colorful lyrical style. He felt that his own works were not as colorful but rather monotone, although the movements of his lines were tremendously bold, unstrained and somewhat erotic in nature. Nakashima is known for being a poet, writer, and actor, as well as an artist and he began to write poetry in his early teens. His published poems include "The Sea of Glass", "Dreams of Melancholy" and English poems such as "Alpha and Omega", and also collected essays "Dreams are your Future Memories", and fictional work, "A Calm Kiss on Thursday". As an actor, Nakashima starred in the independent film, "Confined Room" in Japan. In addition, he has written 45 scripts for solo-performances and performed more than a thousand times throughout Japan. "His art consists of poetry and painting, as he is a poet who also draws and paints, but alternatively, he is also an artist who writes poetry. His vital, visionary and colorful world within the void comes from his marvelous creative imagination. Some of his works are somewhat erotic concerning the ultimate source of life. Every morning, he listens to Bach as he starts to paint. He says he is inspired by the deep sounds of the pipe organ, which is full of vital energies in the sacred universe. As a worshipper of Bach, Nakashima is evoked to infuse fresh, new blood into his fantasies. His hand expresses invisible messages sent from the universe and his poetic formation is composed of subtle images between consciousness and sub consciousness. His art is in a category of its own that is different from so-called abstract painting, which could be a secret code symbolizing his mysterious poetry. The spark, flicker, and revolution of poetry scattered throughout the unrestrained abstractions cannot be easily interpreted. Nakashima's incomparable innocent madness is his own and I admire his originality." (Quotation from "Poetic Paintings of Junichi Nakashima" by Critic Sakan Komori) For more information, contact Dannie Pierce at 212-695-8035, or, dpierce@onishigallery.com. Or, visit http://onishiproject.com/junichi-nakashima-solo-exhibition