Kathryn Markel Fine Arts
529 W 20th St, Suite 6W, New York
212-366-5368
Tuesday - Friday 10am - 6pm, Saturday 11am - 6pm



Moon Palace
Sep 13-Oct 20
Josette Urso's paintings are driven by a sense of urgency. Working from her observations of her surrounding environment, her inspiration is in a constant state of flux as the light, weather, and elements of any given scene changes as she works. Whether working in plein air during her travels or looking out over her sweeping view of Brooklyn from her studio, Urso responds to the shapes, forms, light, and experience of place and seeks to capture that in heavily worked, frenetic abstraction.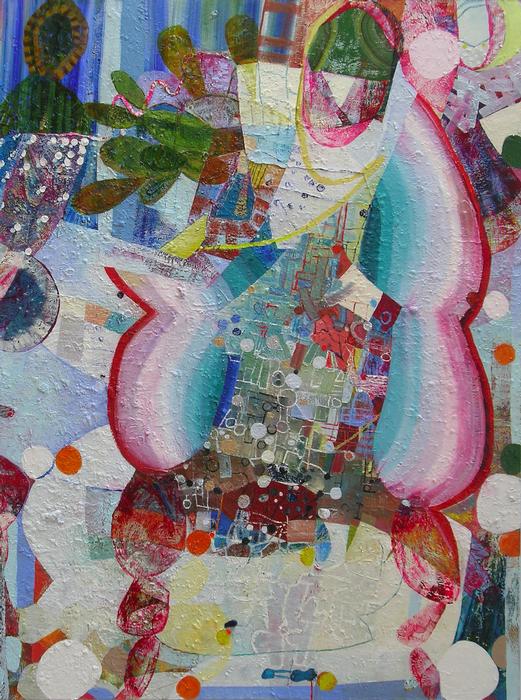 Just Beneath The Surface
Sep 13-Oct 19
There is a narrative undercurrent to Stephanie London's still life paintings that give a sense that her arranged objects are like actors on a stage. Sourcing her objects from thrift stores, eBay, or flea markets, they have an inherent nostalgic history to them, and as they are used again and again in her paintings, they become a familiar cast of characters. London's prolonged study of these objects is apparent in their composition, for there is not only evidence of a finely attuned observation to how they work with one another in light, color, shape, and mood, but the space around and between them bristles with a mysterious energy over how they may relate in their uncanny juxtaposition. This intuitive process lends a sense of London's hand and subconscious, giving the scene a touch of surrealism. The paintings are quietly expressive, with a somber palette contrasted with an emphasis on light. A minimalist by nature, London is pushing herself with this latest body of work to imbue more complexity into her scenes with more objects and greater atmospheric details. Rather than placing these objects in an ambiguous ground, she is creating a specific place. With some of the paintings on view in Just Below the Surface, she uses segments of Picasso's "Guernica" as a background. A favorite painting of London's, this enables her to further understand and pay tribute to the painting, as well as to create a contrast between the bold, intense, and active imagery with the more tranquil scene and delicate objects.