Kathryn Markel Fine Arts
529 W 20th St, Suite 6W, New York
212-366-5368
Tuesday - Friday 10am - 6pm, Saturday 11am - 6pm



Lisa Breslow: Recent Paintings
Oct 19-Nov 25
Lisa Breslows landscapes and cityscapes are an exercise in contrasts. Both the natural world and architectural grit have a place in her work, highlighting the pull of New York City created by these opposing forces existing side-by-side. Breslow distills her depictions of our surroundings down to their essence, creating atmospheric scenes activated by mood, energy, and light rather than a literal portrayal. Her streets and parks feel familiar, but not quite your own. Attentive to subtle moments of harmony, Breslows cityscapes are snapshots of fleeting beauty. We know these roads are busy, these sidewalks are bustling, these blocks are loud, yet in Breslows world they are quiet and meditative. The tranquility of Central Park is a natural fit for this instinct, and is a regular star of her landscapes. Sensitive to the subtle changes throughout the day and intrigued by the aesthetic overhauls from season to season, Breslow makes each return to the park feel new. The excitement she has while building the lush reflections in the lake is evident. In her latest work, Breslow expands on her tonalist sensibilities and emboldens her compositions with a more heightened and varied color palette. Her scenes revel in the interplay of light, color, and form, and capturing these elements with looser, broader brushstrokes has her work inching ever closer to abstraction. To resist being caught up in specificity, Breslow often turns her panels as she works to keep it fresh and less confined. Striving for a pared down simplicity, her paintings appear mirage-like. They do not represent the city as you see it day-to-day, but the city you imagine in your fondest memories. Lisa Breslow has exhibited extensively in the United States, including recently at the Heritage Museum and the Heckscher Museum. She has been awarded two Pollock-Krasner Foundation awards, as well as an award from the National Academy Museum in New York, and was an Invited Artist at the Center for Contemporary Printmaking. She lives and works in New York City.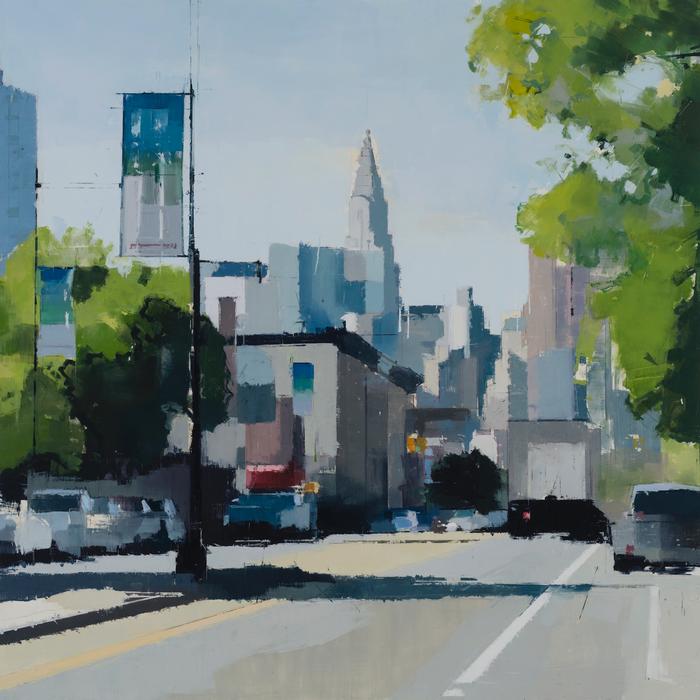 Susan English: Intervals
Oct 19-Nov 25
An interval can signify the transition between places, events, or time. It is in these spaces that Susan English thrives. Her works are specifically calibrated sequences of intervals, activated by those particular moments of passage between color and surface. These narrative relationships can either evoke a sense of vastness or of intimacy. English begins with small watercolor studies inspired by the symbiosis of color and light. They are essentially landscapes reduced to their simplest forms, coastal horizons pared down to bands of land, ocean, and sky. Then, she proceeds to pour transparent layers of tinted polymer onto panels, tilting and shifting the surfaces as they spread and pool across the plane. These panels are assembled into a narrative sequence that resonates with English, and left to dry. Ultimately, this process is left up to fate. As those layers harden, English can barely predict how the colors may change, or where cracks, coagulations, or pools of paint appear. Sometimes, English will pour again, rearrange the panels, or cut them down until shes satisfied. Her final surfaces capture a delicate relationship between control and accident. An interval can also signify a pause, a moment to stop and take a breath between bouts of activity. With its tranquil palette and ability to draw you into a meditative space as you get lost in its layers, Englishs work represents an opportunity to take this breath. She creates a catalyst for the immersive experience she makes room for when finding inspiration a chance to solely get lost in observation. Susan English has exhibited widely throughout the United States. She has been a Saltenstall Foundation Fellow, and a Teaching Artist at Dia:Beacon. She has an MFA from Hunter College, and studied at the New York Studio School. She lives and works in Cold Spring, NY.