Kathryn Markel Fine Arts
529 W 20th St, Suite 6W, New York
212-366-5368
Tuesday - Friday 10am - 6pm, Saturday 11am - 6pm



Daniel Brice: Another Liquid Sequence
Jun 22-Jul 29
Kathryn Markel Fine Arts is pleased to present Another Liquid Sequence, Daniel Brices second solo show at the gallery. Daniel Brices paintings are influenced by the minimalist environments of coastal California. They reference the hazy atmosphere above and in front of the earth, ocean, and sky. Their blurred boundaries translate to moody color fields with a simmering quietude, often grounded by abstract geometric form. Returning to oil after a stretch of working with watercolor, Brice can invigorate his layering technique with a more tactile quality. The layers are built up on the paper so that his process is evident, with the finished surfaces acquiring a sleek sheen. All of his pieces begin with choosing a color and then, through intuition and color theory, Brice introduces each additional color to create supporting harmony or dissonance. The choices are poetic, even musical, and he ultimately strives to solve the puzzle each decision unlocks. When viewing the finished piece, what first appears to be a minimal or monochromatic palette is then revealed to be built upon under-painting with a vast spectrum. Several works on view in Another Liquid Sequence are particularly reminiscent of the subtle complexity of the horizon line, mirroring the thin wide expanse where colors meet and blend. Others are darker, seemingly more internal, offering suggestions of formality. From brilliant blues to exploring shades of black, Brices paintings strive to be a reflection of the internal conversations one has while in a meditative state. Daniel Brice has exhibited widely throughout the United States, including at Chiaroscuro Contemporary Art, Western Project, and Riverside Museum of Art. His work is featured in many public and private collections. He lives and works in California.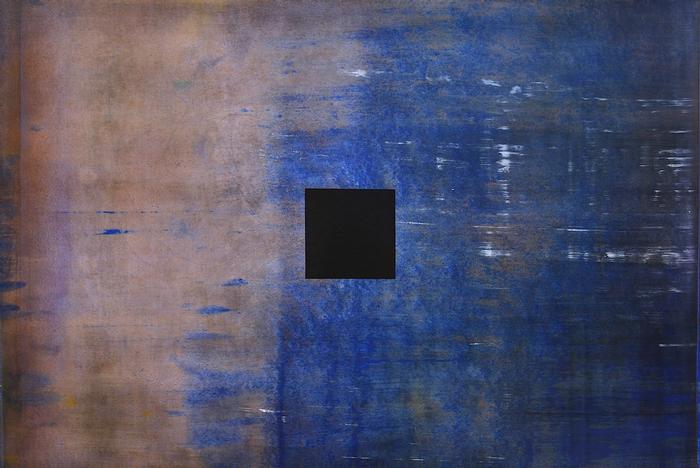 Nancy Cohen: Liaisons
Jun 22-Jul 29
Kathryn Markel Fine Arts is pleased to present Liaisons, Nancy Cohens first solo show at the gallery. Nancy Cohen is interested in the juxtaposition of fragility and strength, both in our personal lives and the environment. Her work investigates the journey of the individual navigating a perilous world, all while exploring the fragility of that world itself. Through personal study of waterways and collaborations with scientists and environmentalists, Cohen imbues her work with academic references to a natural world that is fighting back while constantly under threat. Cohen shares these dualities in her choice of materials. She has been working with glass and handmade paper for over twenty years, drawn to how they transform along the way to the pieces finished form. These materials allow for an implication of the body in the work, the necessary touch and adaptation to their malleability is evident in their construction. Their elements hang in the balance, each one necessary, vulnerable, and interdependent. The pieces on view in Liaisons show the evolution of a body of work. Earlier pieces are constructed with a variety of found glasses that have been melted and reformed in a kiln over molds of clay, while newer works use glass made by Cohen. They are connected by ideas of form, experimentation with materials, and a balance of intuition and intention. Heavily inspired by water, Cohens sculptures have an undulating, ethereal quality to them. They bring to mind images of eddies, seafoam, crashing waves, and the topography of waterways. They are inspired by the tension between industrial development and nature thats abundant on the coast of New Jersey, intuitively responding to the forms, colors, and sounds that emerge as the coastline transforms over time. Nancy Cohen has exhibited widely throughout the United States including at UrbanGlass, the Quark Park Sculpture Garden, The Sculpture Center, and the Staten Island Botanical Garden. She has been and Artist in Residence at Bullseye Glass, WheatonArts, and Pilchuck Glass School and done residencies at Yaddo, MacDowell Colony, and Millay Colony. She is the recipient of several grants, including a Pollack Krasner Foundation Grant. Nancy Cohen has an MFA from Columbia University, and lives and works in Jersey City, New Jersey.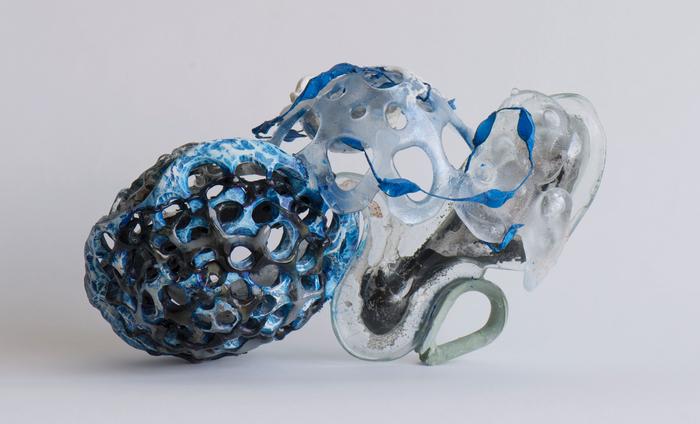 Following the Thread
Aug 03-Sep 02
The distinct divide between the worlds of art and craft has been rapidly shrinking. Artists who work with textiles are being welcomed into the contemporary art world like never before. Following the Thread celebrates a selection of these artists who are experimenting with and being inspired by textiles and the techniques used to work with them in a modern way. Drawn to the aesthetics or the cultural and political connotations of textiles, their work looks to the tenets of painting, applying notions of space, form, and color to their manipulation of fabric and thread. Emily Barlettas embroidery on paper uses the language of painting and drawing to create abstract works with thread. With references to landscape and biology, she explores color and form on a small scale. The materials allow for vivid evidence of process, lending an intimate sense of Barlettas hand in each piece. Eric Blums layered arrangements of ink-washed, wax-infused silk are rooted in modern painting techniques yet activated by the experimental manipulation of his media. Their parts dont always seem to go together, while the whole wavers at the edge of recognition. He is drawn to unexpected juxtapositions and awkward harmonies with menacing undercurrents that dont make a nuisance of themselves. Sarah Irvins Quilt Series deconstructs quilting and builds it up again into something entirely removed from its two-dimensional form. She reworks cotton, thread, and wood into structures that only allude to tradition. Subverting the notion of quilting being womens work and therefore tidy, delicate, and commercial, her pieces reimagine its materials as building blocks to form strong, architectural sculptures. Sydney Licht updates the conventions of still life by shifting the subject matter to signifiers of contemporary consumer culture and studying them with a painters eye, skewing perception and abstracting familiar forms. She is drawn to the materials that make up the world around us -- the packaging, bags, and containers that are often overlooked despite being some of our most common sources of visual intrigue. With her series of paintings centered around fabric and sewing supplies, she breaks that focus down even more, elevating the tools used to create so much of what we consume into subjects worthy of study. Gina Occhiogrossos preoccupation with the materiality of painting has led to expanding her language to include materials and processes outside of paintings usual conventions. She pierces, slices, or punctures her surfaces and incorporates craft-based materials to lower the material hierarchy of the piece. Yarn is a natural match for her interest in working with line, and she uses it to alternately enhance or disrupt the line work of her paintings. In other pieces, she uses layered cotton as a foundation to challenge traditional notions of field and space. Marilla Palmersmixed media works navigate the unexpected overlap of the organic and artifice. Dried flowers and foliage are delicately combined with fabrics, holographic paper, and sequins to embellish renderings of found branches and plants. While at first glance they may appear to be a celebration of the femininity of nature, closer inspection reveals that she incorporates the decay of her natural materials into her work. The glamorous synthetics serve as a mask to hide this process and their fading beauty, questioning the power to fully transform through adornment. Debra Smith approaches her textiles with the sensibilities of a modern painter and seeks to break the stereotypes associated with piecework. Working with vintage fabrics - primarily mens silk suit lining and kimono - brings an historical and poetic weight to the work even before she begins to meticulously piece together her materials into abstract forms. The masculinity of the suit fabric and the femininity of the silks strike a harmonious balance thats then thrown off by skewed geometry. Yolanda Snchezs textile work is inspired by Bojagi, a Korean art form that pieces scraps of fabric together to create textiles that were originally intended to wrap goods as a symbol of fortune. As the tradition evolved to include finer and more delicate fabrics, the stitching and seams were used to create linear elements that were viewed as essential to the design. Snchez sees parallels in this to modernist aesthetic, and experiments with sizing, color compositions, and stitching techniques to play up that comparison. With a Full Heart is made completely of strips of silk leftover from her previous Bojagi projects arranged in the shape of a wonsam, a Korean ceremonial garment, with its outstretched sleeves symbolizing a readiness to protect, envelop, or fly.