First Street Gallery
526 W 26th St, Suite 209, New York
646-336-8053
Tuesday - Saturday: 11 am - 6 pm



Still
Sep 04-Sep 29
FIRST STREET GALLERY is pleased to announce a solo exhibition of new works by Edmond Praybe. Still, a collection of recent paintings and drawings, will run from September, 4–29. The opening reception will take place on Saturday, September 8 from 3-5 pm. The works in Still, comprised mostly of still-life and interior paintings, investigate the visual intricacies of cluttered spaces and complex groupings of objects and attempt to find unity within the disarray. The balance between openness and inevitability within the image is the defining current that runs through Praybe's new works. The spaces, objects and figures manifest throughout different paintings in the exhibition, seen from new angles and combined in ever evolving stagings. As the paintings morph and develop so too do the actual set-ups objects and figures are moved around, some added some taken out and different viewpoints are employed. All of these fluctuations, the process of looking, reacting and revising, serve to keep the paintings from closing in on themselves before a unified expression is brought to resolution. In these new works objects are recast in multiple paintings, providing the artist with a visual history and vocabulary. Many objects have a personal connection to the artist while some are chosen purely for their aesthetic appeal. Some objects were gifts, some inherited, some found in thrift stores, yard sales, in the woods or abandoned houses, all chosen for their qualities of visual interest: color, shape, texture, narrative implications and evocations. Flowers, figures, glassware, mugs, tv tables, bones, beehives, furniture, insects, easels, paintings, plates, bowls, fruit, bird nests, sea shells, pitchers, vases, plants, turtle shells, patterned fabric, frames and laptop computers bring together elements of the natural world and the manufactured man-made world existing in some kind of designed equilibrium. Praybe's curiosity about nature, collecting remnants of plants, trees, bones and other found objects from walks in the woods, combines with his day to day suburban existence in these paintings. The mix of found, collected and bought objects unite visually as the tactility of the observed forms translates into the tactile quality of the paint ultimately relaying the feeling of an integrated world. Praybe is honing in on the quiet act of contemplation that occurs during the process of observing then synthesizing and recording the visually perceived world into paint. Still is Edmond Praybe's second solo exhibition at First Street Gallery. His work has been shown in galleries across the U.S. including Manifest Gallery in Cincinnati, OH, Stephen F. Austin State University Gallery in TX, Ridderhof Martin Gallery in VA, Prince Street and Bowery Galleries in New York City, The Mitchell Gallery at St. John's College and The Maryland Federation of Art's Circle Gallery in Annapolis, MD. Y Art Gallery in Baltimore, MD and Benfield Gallery in Severna Park, MD also regularly show his work. Praybe has works in many private collections as well as the collection of the National Parks Service. Notable art critics Jed Pearl and David Cohen have included Praybe's work in juried exhibitions. In 2012 he was the recipient of the Hohenberg Travel Grant for the study of art in Europe. Praybe currently teaches painting at Anne Arundel Community College in Arnold, MD. He received his BFA from Maryland Institute, College of Art in 2004 and his MFA from the New York Studio School in 2012.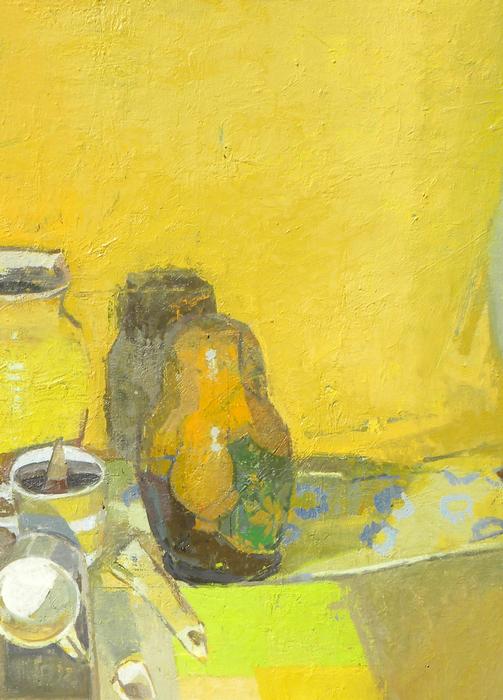 Hank Feeley: Recent Concoctions
Oct 02-Oct 27
"Baller blockin' ain't an option, that ain't the purpose of my concoction. " - "Hittin' Curves" by Grits Hank Feeley returns to First Street Gallery with an exhibition of new work titled Recent Concoctions. This is Feeley in his classic non-sequitur mode. Paintings and mixed media concocted out of the grab bag of our lives, enhanced by the beauty of random musings. The works are lively and bright, and have a collage based visual approach involving multiple elements playing off one and other. For this exhibition Feeley has added the occasional fabric grace note to certain of the works. For example: "So? #2" features a contemporary grocery store take on the still life paintings of seventeenth century Dutch masters, but with a mysterious hand intruding from under the table and the Socratic question "So?" inscribed on a party balloon. The colorfully draped splash of an actual Dutch fabric on the otherwise unadorned right side completes the composition. Feeley has said "My compositions are aesthetically pleasing, at least to me." A few quotes about Feeley's work: "If Hank Feeley were not so strikingly original, I would say that he stands at the intersection of Magritte and Marvel Comics, but as it is, he has his own way of disorienting the viewer so we can see again, now with our perception refreshed." - Billy Collins "The intensity of his style, combining imagery from popular culture, art history and advertising, with heady color, has something in common with surrealist Max Ernst's description of his own work in collage: 'A linking of two realities that by all appearances have nothing to link them, in a setting that by all appearances does not fit them." - Ellen Fischer " Hank Feeley's work is batting 1000% with me. " - Ed Paschke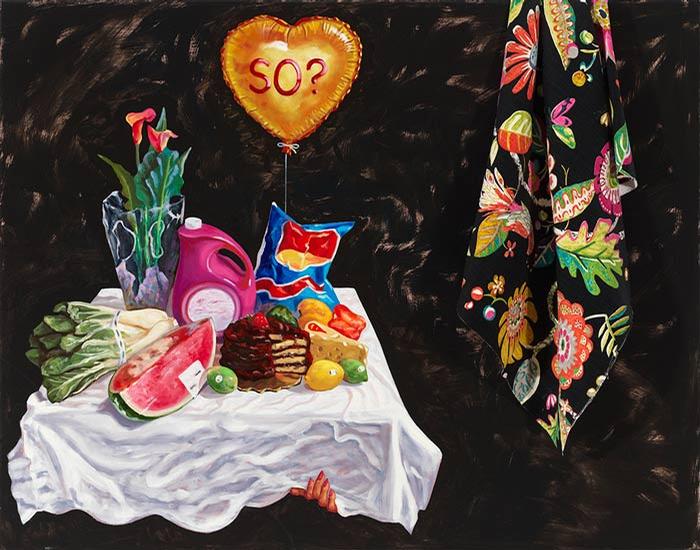 Leslie Adler: More Commemorative Drilling
Oct 30-Nov 24
First Street Gallery in Chelsea is pleased to present MORE COMMEMORATIVE DRILLING, a solo exhibition by Leslie Adler. American mid-career artist Leslie Adler works in a studio across the Hudson in New Jersey, as well as in Southern Vermont. Her paintings are rendered primarily in inks and natural dyes. Leslie also presents ceramic sculpture and hand pulled prints. Leslie's favorite work to date has been praised as "abstraction by action". This exhibit is inspired by the relationship between the natural environment and human nature. Viewers will experience works of several mediums that were created through a multitude of unique processes, producing pieces that are indicative of Leslie's style as an artist. Critics have described her work as mysterious and thought provoking. Leslie's work has been featured in many states in the U.S. as well as in Paris. She has been in dozens of juried exhibitions and has won several awards for works on paper, painting, and collage as well as photography. For further information about Leslie Adler's work, including dates and times for any open studio showings, please visit her website at www.leslieadlerfineart.com.