SACI New York Gallery
454 W 19th St, New York
212-248-7225
Monday - Friday: 9 am - 5 pm



INSIDE by Adrien Broom
Sep 06-Nov 14
Adrien Broom is an image-maker and visual storyteller. As a photographer, fine artist and set designer, Adrien infuses a sense of magic and wonder into the images she creates. Broom uses the medium of photography to enact her artistic vision however she approaches it from a cinematic point of view, finding a location, sourcing material and building an environment for her actor to inhabit. Her artistic practice resembles the working methodology of Gregory Crewdson to a degree, but from a more sculptural and surreal direction. Her imagery has echoes of Tim Walker's photography, with the fantastical compositions she creates. Whether she is building elaborate sets or relying on the beauty of the natural world, Broom creates images that are familiar, otherworldly and fantastical with a touch of foreboding. Stop by our Exhibition Opening! When: Thursday, September 6 Time: 6:00-8:00pm Come to our Artist Talk! When: Thursday, November 8 Time: 6:00-8:00pm Born in New Haven, Connecticut, Broom spent her childhood in Lyme, before moving to Boston in 1998 where she attended Northeastern University, graduating with a Bachelor of Arts degree in Computer Animation in 2002. Adrien continued her exploration of the fine arts at the SACI College of Art and Design in Florence in 2003, followed by studies of Fine and Decorative Art History at Christie's, London lasting until 2006. Although she has taken some art classes at Rhode Island School of art and design, Broom prides her self on being a self-taught photographer. She now resides and works in Brooklyn, New York. Adrien's work has been exhibited internationally and has been covered in publications such as the New York Times, Huffington Post and Smithsonian Magazine, among others. Join us for the Opening and Artist Talk or visit the gallery throughout the Fall to see this exhibition!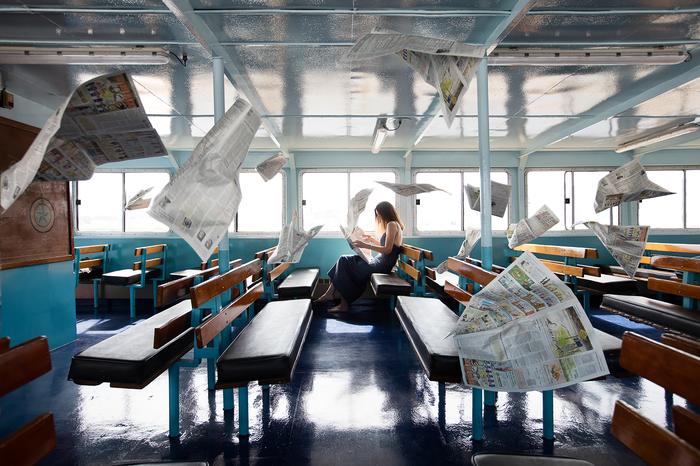 Back in Town by Jules Maidoff
Nov 29-Jan 31
Jules Maidoff is many things: A Bronx Native, an Ex-Pat, a Painter Draftsman and Printmaker, and most importantly the founder of SACI, a College of Art and Design based in Florence, Italy. Maidoffs work returns home, to the Chelsea neighborhood where he used to live as a student, to exhibit at a gallery dedicated to representing alumni and faculty of the school he founded in 1975. His work is an elaborate interplay of color and form, drawing on post-modern ideology but with apparent influences based in movements such as the abstract expressionism as well as formalism. Stop by our Exhibition Opening! When: Thursday, November 29 Time: 6:00 to 8:00pm