Don Soker Contemporary Art
2180 Bryant St, Suite 205, San Francisco
415-291-0966
Friday - Saturday: 12 - 6 pm, Appointments welcomed



Shoichi Seino Recent Works
Sep 01-Oct 27
Don Soker Contemporary Art is pleased to announce "Recent Works" from September 1 – October 13, an exhibition of a series of wall mounted carbon sculptures by Shoichi Seino. The works in the exhibition are of two types. The first are long carbon tubes encased in Plexiglas and the others are small cubes of carbon. These are produced by an unusual technique, using industrial carbon, and kiln fired at temperatures of 2000F-2200°F. The process of change in a material has long occupied Seino. Each firing results in a lesser weight. He selected the material for the larger works from scrapped material at a carbon company. Each firing resulted in a lesser weight until the size was the same as that of the acrylic box. As the art writer Kenneth Baker has said about Seino's work, "he has become interested in disappearance". Some amount of the carbon has been transformed into gas by sublimation. For Seino, making work of carbon manufactured for industrial use and fired at extremely high temperatures is the ultimate aspect of metamorphosis by fire. These works are simultaneously very primitive as well as futuristic, even otherworldly. None have titles to suggest their meaning. Seino studied at the Tokyo National University of Fine Arts. He lives in Nagoya, Japan. This is his 8th exhibition at Don Soker Contemporary Art. A reception for the artist will be held on Saturday September 1st from 4 -6 pm.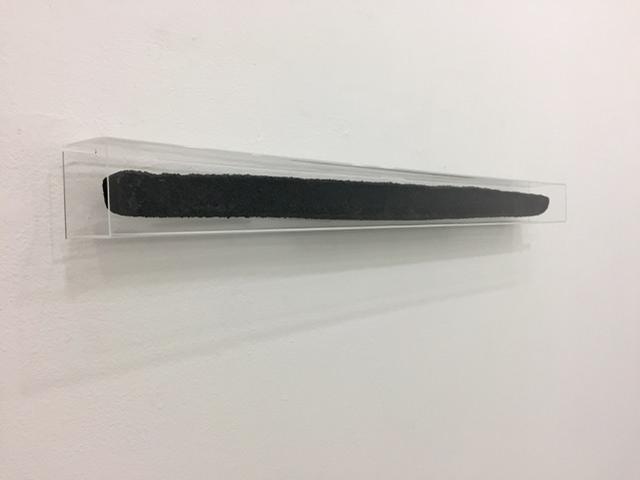 Theodora Varnay Jones DIALECTICS: angles of cognition, in the orbit of photography
Nov 10-Dec 22
Theodora Varnay Jones has always had a deep interest in the works of Paul Cezanne who transformed landscape painting most radically explicitly acknowledging that what is real in art is different and independent from the actuality of nature. The natural world is referenced in many of Varnay Jones' recent works. However, in her complex, layered images and sculptures, the depicted shapes and forms no longer represent any of the source objects. Their implications are their fugitive nature and changing contextual meaning. Rubbing, her choice of drawing technique for many of her new works has an almost photographic accuracy, yet still revealing some of her hand's control in the process. She traces several viewpoints of her source materials, and then layers them in combination with line drawings or ghostly duplicate shapes of the depicted original. Additionally she explores the ambiguities found in reflections. Her drawings combined with, or based on photography, question the domineering role of the optical reality. Her intent of a dialogue between components is unsettled, evoking memories as well as empirical and philosophical questions. Consistently working in just shades of grey, she aims to strip away associations and limitations that colors would introduce to her work. The details of her works become the essential factors as universal interrelationships of context and process inform one other. This is her 13th exhibition with Don Soker Contemporary Art.