Don Soker Contemporary Art
2180 Bryant St, Suite 205, San Francisco
415-291-0966
Friday - Saturday: 12 - 6 pm, Appointments welcomed



Dimitra Skandali In my end is my beginning
May 12-Jun 23
Don Soker Contemporary Art presents "In my end is my beginning", a new body of work by Dimitra Skandali inspired by T.S. Eliot's Four Quartets. Drawings on paper and on sea grass along with a site-specific installation compose a universe of words, numbers, lines and dots referencing Bay Area navigation and topographical maps. She wishes to "convey feelings conjured up in between states of being and longing: emotions of dislocation and belonging, recognizing and missing, realizing gaps when stronger than being present, in between efforts that become despair, and fears that become courage and awes". Dimitra Skandali received her MFA from the San Francisco Art Institute. She has been presented with numerous awards and her works have been exhibited throughout the Bay Area, New York, and Los Angeles, as well as in the Netherlands, Italy, Germany, the Philippines, and Greece. Recently they have been shown locally at the Yerba Buena Center for the Arts and the Palace of Fine Arts in San Francisco and the ICA in San Jose. This is her 2nd solo show with DSCA. She lives and works in San Francisco and Paros Island, Greece.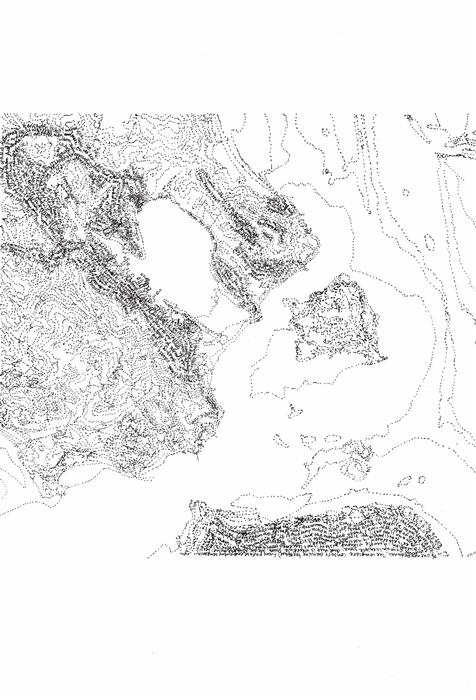 Karin Wikstrom Cube, tube, oblong, etc.
Jun 30-Aug 11
Don Soker Contemporary Art presents "Cube, tube, oblong, etc. ", an exhibition of paintings by Karin Wikstrom. The starting point for this work originates in printed advertisements using technical drawings of lampshades and other common household items. The bare essential forms depicted are labeled as: tubes, bells, shallow drums, deep drums and so on. Oblique and unembellished, these images work as scaffolding for the visual language of Wikstroms group of paintings. The vocabulary allows her to adhere to the flatness of the surface and a type of perspective similar to that seen in Persian miniatures or Asian art. It invites concentration on color for it's own sake and offers the opportunity to see the paint pigment as substance rather then imagery. Through this use of color and material she finds herself processing and assimilating the industrial flavor of the neighborhood where she lives. These small paintings, similar to the size of appliances in ones home, act as enigmatic contraptions emphasizing the metaphysical abstraction of everyday things. Karin Wikstrom lives and works in San Francisco and studied at The Nyckeviksskolan Art School and at The San Francisco Art Institute. Please join us for the opening reception June 30th, 4 to 6.