SLATE contemporary
473 25th St, Suite A, Oakland
510-652-4085
Thursday - Saturday: 12 - 5pm, First Fridays: 12 - 9pm, by appointment



The Ritz-Carlton, Lake Tahoe: 2018 Summer Collection
Apr 25-Nov 02
SLATE is pleased to announce the Summer Collection at The Ritz-Carlton, Lake Tahoe. Works in this exhibition were selected to compliment the interior architecture and mountain resort lifestyle with both landscape and nature-inspired abstract paintings and photographs. All works are for sale.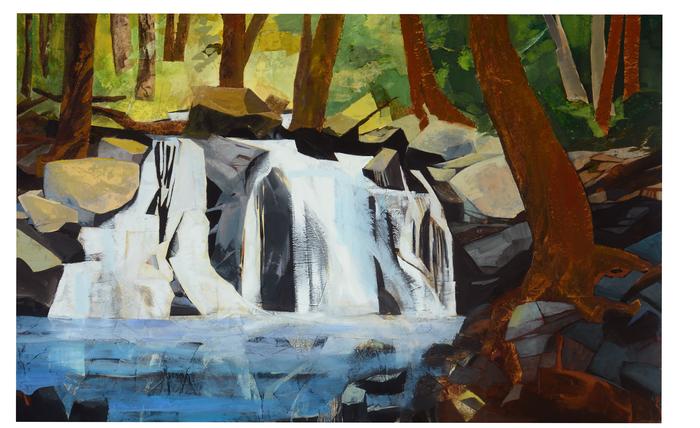 Gail Ragains: PAINTING | Peter Dreyfuss: SCULPTURE @ 555 City Center
May 31-Sep 04
Featuring abstract figurative paintings by SLATE artist Gail Ragains and sculptures by Peter Dreyfuss @ 555 12th St, Oakland, CA.
MICHELE DE LA MENARDIERE: PAINTING @ The Clorox Building
Jun 26-Sep 18
Featuring paintings by SLATE artist Michele de la Menardiere @ 1221 Broadway, Oakland, CA
MIXED
Jul 05-Sep 01
SLATE contemporary gallery presents an edgy three-person exhibition, MIXED, featuring three mixed-media artists. Mixing found paper and paint on panel, Michael Cutlip creates abstract compositions that highlight the juxtaposition of color, form, and texture. David Fredrik Moussallem's mixed-media works blend chaos and harmony, all while expressing different "stories from the streets" as he incorporates photographs of graffiti and physical remnants of street posters into his pieces. Andrzej Michael Karwacki cuts up paintings on panel, recombining them into a new compositions and adds further dimension to the process by including strips of collages made from newspapers and magazines.
MODERN LANDSCAPE @ 101 Second Street
Jul 11-Oct 08
Featuring photography by SLATE artists Thea Schrack, Danae Falliers, and John Watson @ 101 Second Street, San Francisco, CA.
still. life. @ San Ramon Valley Conference Center
Jul 13-Oct 11
Featuring artwork by SLATE artist Eric Bohr and guest artists Deborah Ashley, Michael Sacramento, and Pouke Halpern (Courtesy of Hang Art) @ San Ramon Valley Conference Center, 3301 Crow Canyon Rd, San Ramon, CA.