Socrates Sculpture Park
32-01 Vernon Blvd, Long Island City
718-956-1819
Daily: 10 am - sunset



Hannah: Folly/Function: RRRolling Stones
Jul 12-Dec 31
RRRolling Stones, conceived by Hannah, is a moveable outdoor seating system made from 3D-printed concrete. The designers exploit the standard ergonomics of a functional chair to create durable, mobile outdoor seating. RRRolling Stones' playful design encourages creative interaction and emboldens park visitors to configure them in original arrangements based on preference and need. Opening: Thu, Jul 12, 5-8pm.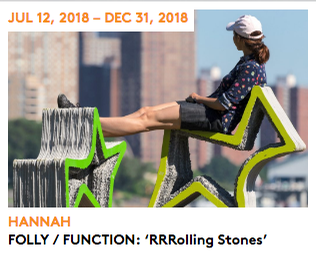 The Socrates Annual
Oct 07-Mar 10
For the 2018 exhibition, projects range from a decolonial greenhouse to audio-sculptural portraits of Queens hip-hop legends. Artists: Leilah Babirye, Sherwin Banfield, Amy Brener, Lionel Cruet, Nathaniel Cummings-lambert, Ronen Gamil, Jesse Harrod, Carlos Jimenez Cahua, Antone Konst, Virginia Lee Montgomery, Leander Mienarus Knust, Joiri Minaya, Nicholas Missel, Nancy Nowacek, Audrey Snyder & Joe Riley.