White Columns
320 West 13th St, New York
212-924-4212
Tue - Sat: 12 - 6 pm



Andrew Cannon
Nov 04-Jan 27
Andrew Cannon's exhibition comprises six recent wall-mounted works that operate in an elastic territory somewhere between architecture, painting and sculpture.
Ben Morea: Paintings from the early 1990s
Nov 04-Jan 27
Ben Morea: The exhibition consists of spray-painted works on paper produced between 1990 and 1992.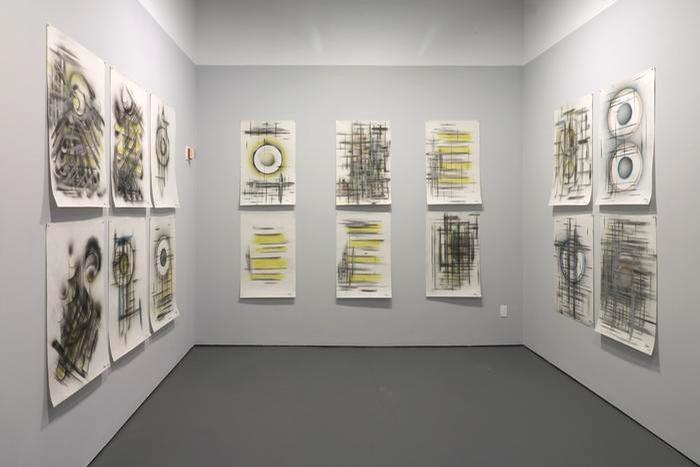 Rebecca Watson Horn
Nov 04-Jan 27
The exhibition consists of six recent paintings that Rebecca Watson Horn describes as ''psycho-spiritual.'' She sees painting as a means to explore spirituality, the mind, the senses, and to ''re-imagine an other self.''
The Sound of White Columns
Nov 04-Jan 27
Exhibition dedicated to the organizations vinyl-only record label. Artists: Tussle, Martin Creed, Wild Billy Childish & The Musicians of the British Empire, Julianna Barwick and Ikue Mori, Eric Duncan and Thomas Bullock aka Rub N Tug, Malcolm Mooney, Kim Gordon, David Van Tieghem, Meredith Monk, Karl Holmqvist, David Robbins, Emily Sundblad & Matt Sweeney, Richard Hell and Robert Quine, and B. Wurtz.
Stomach Acid Reflux
Nov 04-Jan 27
Stomach Acid Reflux, an online inventory that deals with the human body in a way that is somehow both grotesque and formally elegant. Artists: Linda King Ferguson, Diana Kingsley, Amy J Kligman, Sophia S Narrett, Robert Rhee, Jennifer Sullivan, Kurt Treeby. Curator: Ellie Rines. --Online Exhibition.