Denise Bibro Fine Art
529 W 20th St, 4W, New York
212-647-7030
Tuesday - Saturday: 11 am - 6 pm



Warren Linn: Almost a Portrait
Sep 11-Nov 10
Denise Bibro Fine Art, in Chelsea, NYC is pleased to announce Warren Linn's second solo exhibition, Almost a Portrait, on view in the Gallery II, running October 11 – November 10, 2018. Warren Linn maintains sketchbooks. His daily practice of drawing becomes the basis and source for his artwork. These are chronicles. The artist utilizes his forty years of experience with illustrations to reconstruct his sketches and previous fragments into collages and assemblages of variously shaped forms. Although Linn initially starts with a well-planned intention or narrative, his work is deeply informed by the unexpected. Accident, surprise, and discovery are incorporated into his creative process. Linn is both blessed and burdened with insatiability. He often revisits works for editing after having thought them resolved. Similar to the Abstract Expressionists who inspired him early on, Linn allows the viewer to pick up where he leaves off, resulting in works open to interpretation despite the definitive imagery. The ambiguity within his collages is a product of drawing, painting, and construction coming together. Warren Linn is on the faculty of the Maryland Institute College of Art (MICA). He has worked as an illustrator for major media clients, and exhibited in a wide range of galleries and venues over the past four decades, including the Maryland Institute College of Art, Baltimore, MD Society of Illustrators, New York, NY Baltimore Museum of Art, Baltimore, MD St. John's University, Jamaica, NY The Jazz Gallery, New York, NY Parsons School of Design, New York, NY Esther Rand Gallery, New York, NY Mesa Contemporary Arts Center, Mesa, AZ The Knitting Factory, New York, NY The Art Directors Club, New York, NY Artists Guild of Chicago, Chicago, IL The Art Institute of Chicago, Chicago, IL Aichi Prefectural Museum of Art, Nagoya, Japan.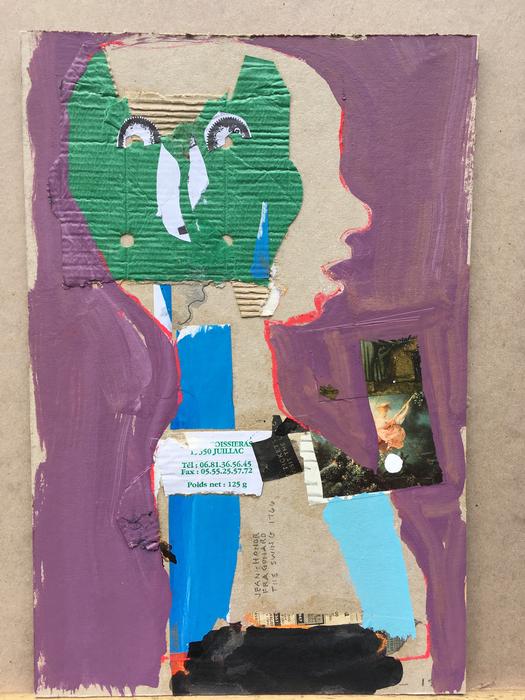 Susan Woods: Drawing with Metal
Oct 11-Nov 10
Denise Bibro Fine Art, in Chelsea, NYC is pleased to announce its first solo exhibition of New York artist, Susan Woods, Drawing with Metal, running October 11 – November 10, 2018. Woods' primary focus throughout her extensive career has been sculpture and functional sculptural art. Recently she has also completed a body of impactful, autobiographical based drawings. Woods' sculpture and drawings share a common force. Her sculpture, although often rooted in an idea or observation, are still spontaneous and organic. Their beginnings do not necessarily dictate their endings. Her works, however spontaneous, are carefully crafted. Her metal works are three-dimensional drawings on the surface, but they are also intricate compositions packed with multi-directions. The juxtaposed geometric and organic forms in these works suggest interesting compositions of space and line. The trajectory of each composition is multifaceted. The interplay of black and white creates depth. They evoke three dimensionalities of form and space. Her body of drawings, although often importing the same modus operandi as her sculptures, is more autobiographical. There are references to happenings and natural landscapes. The compositions are more biomorphic, flowing in line and demonstrating rich shading to define the composition and nuance. Woods has had numerous exhibitions. Among her solo shows are 479 Gallery in Philadelphia, PA and The Seaport Museum, Salem, MA. She has also exhibited at The W Hotels, Chicago International Art Exposition & The Jayson Gallery, Chicago, IL, The Vera Redmond Gallery, The Woodmere Museum and The Nexus Foundation for Today's Art in Philadelphia, PA and The Sculpture Center, NYC. Her works have been acquired by several selected public and private collections including Newark Liberty International Airport, NJ, PLC Arabia, Saudi Arabia, Lincoln Center Film Society Cafe, New York, NY, H. H. Shekh Suroor Bin Mohammad Al Nahyan, The Etihad Tower-Abu Dhabi, UAE, Aveda-NYC & Washington, D.C., Ann Taylor-New York, NYC, W-Hotels, Union Square, NYC, Silver Jet Airlines, VIP Lounge-Newark, Airport, NJ, Cartier & Fortuni, NYC, AC Hotel in Minneapolis, MN to name a few. She has been featured in many publications including Interior Design Magazine, The New York Times, Metropolis, NYC, Crain's, The New York Sun, The New York Daily News, Metropolitan Home, Surface and The Dallas Morning News. Woods studied at the Montserrat School of Visual Art, Beverly, MA The Boston Museum College of Art & Massachusetts College of Art, Boston, MA The Sculpture Center & National School of Design, NYC and the Pennsylvania Academy of Fine Arts, Philadelphia, PA.