Painting Center
547 West 27th Street, Suite 500, New York
212-343-1060
Tuesday - Saturday 11 am to 6 pm



Thomas Berding: Paintings from the Surplus Mound
Mar 28-Apr 22
FOR IMMEDIATE RELEASE - New York The Painting Center is pleased to present Paintings from the Surplus Mound, an exhibition of recent work by Thomas Berding in the main gallery. This solo exhibition of paintings by Thomas Berding continues the artists exploration of the seemingly endless sense of surplus that surrounds and defines many aspects of our contemporary existence. Drawing from conceptual and material structures and choices which linger beyond their intended use, in compelling fashion Berdings recent paintings give vision to a world where new connections are constantly being forged and associations drawn. The layered and encrypted character of these conceptual beginnings is multiplied further by the artists use of stencils, collaged paint skins, and diverse paint handling. In the process, the boundary between an image and its means of fabrication is often exposed and the singular reference for any image dissolved or disrupted. The picture that results is of a world in a chronic state of being rebuilt and reimagined. Thomas Berding was born in Cincinnati, Ohio and received an MFA from Rhode Island School of Design. Berdings paintings have been recognized with awards from the National Endowment for the Arts, Pollock-Krasner Foundation, and NEA/Mid America Arts Alliance. His work has been the subject of recent solo exhibitions at the University of Maine Museum of Art, University of Notre Dame, and in October 2016, Oakland University in metro Detroit mounted a survey of the last decade of his work which was accompanied by a major catalog. Over his career, Berding has exhibited at many venues including the David Klein Gallery, Eli and Edythe Broad Art Museum, Nelson-Atkins Museum, Rochester Institute of Technology, Indiana University, Fort Wayne Museum of Art, Savannah College of Art and Design, and Rhode Island School of Design Museum among many others. Thomas Berding currently lives and works in East Lansing where he is Professor of Studio Art at Michigan State University. For more information on the artist see: www.thomasberding.com or thepaintingcenter.org/exhibitions.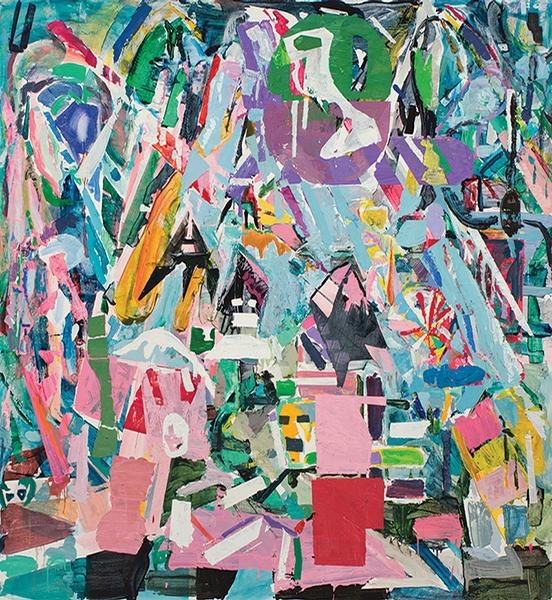 Jason Lahr: Electric Funeral
Mar 28-Apr 22
FOR IMMEDIATE RELEASE - New York The Painting Center is pleased to present Jason Lahrs solo exhibition, Electric Funeral in the project room. This exhibition features recent paintings on shaped panels. Utilizing brief texts which he writes and images appropriated from popular and subcultural points of reference, the paintings draw from narrative theory, contemporary and postmodern fiction, semiotics, feminism, and film theory to explore the formation and shaping of working class masculine identity through mass culture. The work utilizes a wide range of painting languages and culturally derived visual vocabularies to address the issue of gender, and more broadly the expectations and assumptions that are implicit within a socially configured identity bound by class. The visual language of digital culturederived from video games, early computer imaging, and .jpg glitchesis combined with traditional painting techniques and references to illustration, print media, and graphic design, to create an intertextual network that addresses the articulation of masculinity manifested in Generation X. Electric Funeral is accompanied by a full-color catalog with an essay by noted Canadian painter and critic John Kissick. This exhibition is made possible in part by support from the Institute for Scholarship in the Liberal Arts, College of Arts and Letters, University of Notre Dame. For more information on the artist visit: www.jasonlahr.net