Ryan Lee
515 W 26th St, New York
212-397-0742
Tuesday - Saturday: 10 am - 6 pm



Angiola Gatti: Lines of Time
Feb 15-Mar 24
Angiola Gatti: Lines of Time February 15 – March 24, 2018 Reception: Thursday, February 15, 6–8pm RYAN LEE is pleased to present Lines of Time, its second exhibition of paintings, drawings and photographs by Italian artist Angiola Gatti. In Lines of Time, Gatti continues to push the limitations of her preferred medium, the ballpoint pen. In both her intimately-scaled works on paper and large unstretched canvases, Gatti weaves a complex network of pen marks to create compositions that seem at once frenetic, spontaneous and meticulously composed. Using a limited palette of blacks, blues, reds and yellows, Gatti blurs the boundary between painting and drawing. She layers her lines to produce abstract veils of varying densities, explosions of forward motion that halt abruptly, and erratic bursts of shape and hue that seem to hover and float. The relationship between line and negative space is of particular significance to Gatti, and the exhibition's five large paintings range from the spare and minimal to the sprawling and dense. These paintings emerge out of the physical relationship between her body and the canvas—the dimensions of each painting are determined by her height and reach, and her varied markmaking reflects the dynamism of her hand in motion. Combining elements of her own history and memory in addition to her corporeal experience, her works resonate with an enigmatic emotional charge. They contain, as she has said, "an accumulation of energy, an elevation, an exuberance, a crossing, a search." Her long walks in the mountains of Piedmont or through her home city of Turin, where the architecture, urban landscape, and legacy of Arte Povera have helped to define her artistic philosophy, influence Gatti's incorporation of multiple vantage points. She continuously renegotiates relationships between space, line, form and void via the humble ballpoint pen. This interest in everyday surroundings and materials is also reflected in the selection of monochromatic color photographs included in the exhibition. Born and raised in birthplace of Arte Povera, Angiola Gatti (b. 1960 Turin, Italy) uses a common tool—the ballpoint pen—to interpret this tradition. She pushes the boundary between painting and drawing, suggesting the irrelevance of such distinctions in a contemporary context. She has exhibited at Villa Giulia at Centro di Ricerca Arte Attuale (CRAA), Verbania, Italy Le Creux de l'enfer, Centre d'art contemporain, Museo Ettore Fico, Turin, Italy Thiers, France Stuart Shave/ Modern Art, London, UK.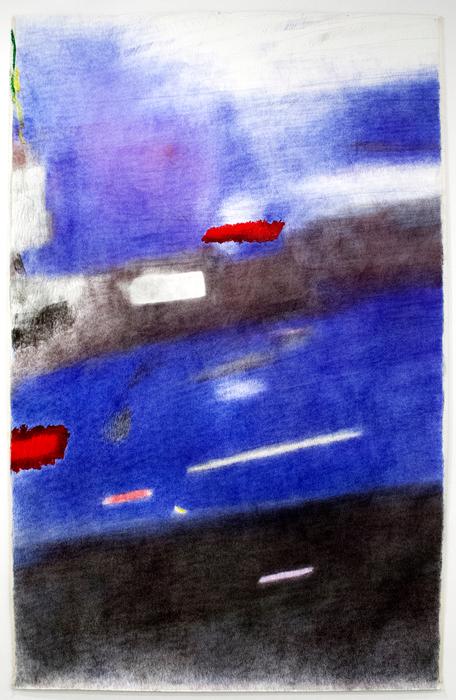 Napalm Elegies (Paintings 1967-74)
Mar 29-May 12
Rudolf Baranik Napalm Elegies (Paintings 1967-74) March 29 - May 12, 2018 Panel Discussion: Wednesday, May 9, 6:30-8pm On Wednesday, May 9 at 6:30pm, RYAN LEE will host a panel discussion with Dr. Patricia Hills, Lucy Lippard, Alejandro Anreus and Matthew Israel. RYAN LEE is pleased to present Napalm Elegies (Paintings 1967-74), an exhibition of selected works from artist and activist Rudolf Baraniks (1920-1998) powerful series of paintings made in response to the atrocities of the Vietnam War. Between 1967 and 1974, Baranik created some 30 paintings based on a newspaper image of a Vietnamese child badly burned by napalm. Using a range of white and gray tones on deep black grounds, Baranik reproduced the image in fragmented arrangements of paint and collage. Honing in on the potency of napalm as the primary outcry symbol, a signifier of the anguish [Americans] felt about the war, Baranik used this image in paintings as well as posters he created for Angry Arts Week, a massive anti-war protest event organized by New York City artists in 1967. In works such as Napalm Elegy / White Silence (1970), Baraniks sensitive abstraction of human suffering elicits a sense of melancholy and loss that is both specific to the contemporaneous conflict and as old as war itself. The paintings deep black upper register contrasts starkly with the luminosity of the white napalmed heads sparsely painted below. In the center, the head appears again alongside fragmented forms - possibly other limbs. In varying saturations of gray and black, the abstracted central image is both haunting and visceral, oscillating between transparency and opacity, between x-ray and excavation. Rudolf Baranik (b. 1920 Lithuania - d. 1998 Eldorado, New Mexico) was a painter, writer and lifelong political activist. After immigrating to the United States in 1938 and serving in the American army during World War II, Baranik studied at the Art Institute of Chicago and Art Students League in New York City. In 1948, he and his wife, artist May Stevens, moved to France and attended the Academie Julian in Paris on the GI Bill, while Baranik also studied under Fernand Leger. In 1951, the couple returned to New York City, where their Soho loft became a hotbed for artistic-political gatherings with their contemporaries, including Leon Golub and Nancy Spero. Baranik and Stevens were staunch advocates of Civil Rights, feminism, prison reform and numerous anti-war movements. In 1967, Baranik assisted with organizing Angry Arts Week, and in the late 1960s, he co-founded Artists and Writers Protest Against the Vietnam War. In the 1970s, he and Stevens founded Artists Meeting for Cultural Change with Benny Andrews and Lucy Lippard. Baranik firmly believed that his political involvement could not be separated from his abstract painting, coining the term socialist formalism to describe his practice. Baranik was a professor at Pratt Institute in Brooklyn for 25 years and a distinguished writer who contributed to Artforum. In 1997, Baranik and Stevens moved to Eldorado, New Mexico. For inquiries, contact Bridget Casey at 212-397-0742 or bridget@ryanleegallery.com.